Crash Corrigan
NEW 10/2/2000 but still under construction.



biography
Born Ray Benard in 1902 in Milwaukee, Wisconsin, Ray "Crash" Corrigan first began his Hollywood career as a fitness trainer for film stars in the 1920s and 1930s...
In 1932, while working with some of MGM's actors, Cedric Gibbons saw the muscular trainer and offered him work at the studio in small roles. One of his first assignments at MGM was to be Johnny Weissmuller's stunt double in one of the Tarzan films. He worked in numerous films, usually in uncredited roles, until he was offered a contract with Republic Pictures. In 1936, he signed with Republic and changed his name to Ray Corrigan. The nickname "Crash"...
Corrigan left Republic at the end of his contract in the late 1930s over a salary dispute. He later signed with Monogram and made a string of westerns....
In 1937, he purchased a large parcel of land in the Simi Valley of California, which soon became "Corriganville"....

the films of crash corrigan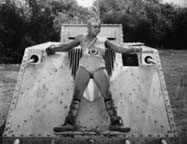 filmography
It! The Terror from Beyond Space (1958)
The Domino Kid (1957)
Zombies of Mora Tau (1957) with Allison Hayes
Apache Ambush (1955)
The Great Adventures of Captain Kidd (1953)
Killer Ape (1953)
Trail of Robin Hood (1950)
The Adventures of Sir Galahad (1949)
Renegade Girl (1946)
The White Gorilla (1946)
The Monster and the Ape (1945)
White Pongo (1945)
Captive Wild Woman (1943)
She's for Me (1943)
Bullets and Saddles (1943)
Black Market Rustlers (1943)
Cowboy Commandos (1943)
Land of Hunted Men (1943)
Rock River Renegades (1942)
Texas Trouble Shooters (1942)
Thunder River Feud (1942)
The Strange Case of Doctor Rx (1942)
Dr. Renault's Secret (1942)
Arizona Stagecoach (1942)
Boot Hill Bandits (1942)
Tumbledown Ranch in Arizona (1941)
Underground Rustlers (1941)
Tonto Basin Outlaws (1941)
Saddle Mountain Roundup (1941)
Fugitive Valley (1941)
Wrangler's Roost (1941)
The Kid's Last Ride (1941)
Trail of the Silver Spurs (1941)
The Range Busters (1940)
Trailing Double Trouble (1940)
West of Pinto Basin (1940)
New Frontier (1939)
Wyoming Outlaw (1939)
Three Texas Steers (1939)
The Night Riders (1939)
Red River Range (1938)
Santa Fe Stampede (1938)
Overland Stage Raiders (1938)
Pals of the Saddle (1938)
Heroes of the Hills (1938)
Riders of the Black Hills (1938)
Outlaws of Sonora (1938)
Call the Mesquiteers (1938)
Purple Vigilantes (1938)
Join the Marines (1937)
Wild Horse Rodeo (1937)
The Trigger Trio (1937)
Heart of the Rockies (1937)
Range Defenders (1937)
The Painted Stallion (1937)
Come on Cowboys (1937)
Gunsmoke Ranch (1937)
Hit the Saddle (1937)
The Riders of the Whistling Skull (1937)
Darkest Africa (1936)
The Leathernecks Have Landed (1936)
Undersea Kingdom (1936)
Roarin' Lead (1936)
Country Gentlemen (1936)
Ghost-Town Gold (1936)
The Vigilantes Are Coming (1936)
The Three Mesquiteers (1936)
Dante's Inferno (1935)
Tarzan and His Mate (1934) (uncredited) .... Double for Weissmuller

TELEVISION
"Crash Corrigan's Ranch" (1950) TV Series .... Host
links
Ray 'Crash' Corrigan
This site is the last word on Crash Corrigan's westerns, complete with many photos and lots of information.
Stars: Ray Corrigan
This site offers biographical information and a complete filmography.

---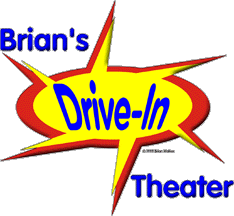 Click on the logo to go back to Brian's Drive-In Theater



This page debuted October 2, 2000.