John Ireland
NEW 1/18/01 but still under construction; check back soon for the completed page.
biography
John Ireland and his half-brother Tommy Noonan made their stage debut with a New York based experimental theatre in the 1930s.
When Ireland married actress Joanne Dru, Tommy Noonan became acquainted with Dru's brother, future Hollywood Squares host Peter Marshall. They soon formed a successful 1950s comedy team.

the films of john ireland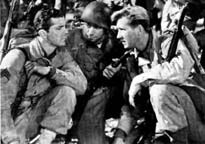 later years

john ireland films available from movies unlimited

filmography
This listing is currently incomplete:
Hammer Down (1992)
Waxwork II: Lost in Time (1992)
Graveyard Story (1990)
Sundown: The Vampire in Retreat (1989)
Messenger of Death (1988)
Perry Mason: The Case of the Lady in the Lake (1988)
Bonanza: The Next Generation (1988)
Terror Night (1987)
Seasons in the Sun (1986)
Miami Golem (1985)
Thunder Run (1985)
The Treasure of the Amazon (1985)
Martin's Day (1984)
The Incubus (1981)
Guyana: Cult of the Damned (1980)
Las Mujeres de Jeremías (1980)
Tourist (1980)
Marilyn: The Untold Story (1980)
Kavik, the Wolf Dog (1980)
Captain Midnight (1979)
The Shape of Things to Come (1979)
Crossbar (1979)
Love and the Midnight Auto Supply (1978)
The Millionaire (1978)
Tomorrow Never Comes (1978)
Delta Fox (1977)
Ransom (1977)
Satan's Cheerleaders (1977)
Verano sangriento (1977)
Mission to Glory (1977)
Il Letto in piazza (1976)
The Perfect Killer (1976)
Salon Kitty (1976)
Dieci bianchi uccisi da un piccolo indiano (1975)
Farewell, My Lovely (1975)
We Are No Angels (1975)
The Swiss Conspiracy (1975)
Revenge of the Fists of Fury (1975)
The House of Seven Corpses (1974)
Welcome to Arrow Beach (1974)
The Girl on the Late, Late Show (1974)
The Phantom of Hollywood (1974)
Escape to the Sun (1972)
Northeast of Seoul (1972)
Meat Is Meat (1971)
The Adventurers (1970)
Badlands Drifter (1970)
Femmine insaziabili (1969)
Dead for a Dollar (1969)
Una sull'altra (1969)
Zenabel (1969)
Run, Man, Run! (1968)
El 'Che' Guevara (1968)
Fidarsi è bene, sparare è meglio (1968)
A Gun for One Hundred Graves (1968)
Quel caldo maledetto giorno di fuoco (1968)
Hate for Hate (1968)
Arizona Bushwhackers (1968)
Villa Rides (1968)
Caxambu (1967)
Dirty Heroes (1967)
Fort Utah (1967)
Odio per odio (1967)
Go for Broke (1967)
Huyendo del halcón (1966)
Day of the Nightmare (1965)
I Saw What You Did (1965)
The Fall of the Roman Empire (1964)
The Ceremony (1963)
55 Days at Peking (1963)
Brushfire (1962)
Return of a Stranger (1961)
Wild in the Country (1961)
Faces in the Dark (1960)
Spartacus (1960)
No Time to Kill (1959)
No Place to Land (1958)
Party Girl (1958)
Stormy Crossing (1957)
Gunfight at the O.K. Corral (1957)
Gunslinger (1956)
The Glass Cage (1955)
Hell's Horizon (1955)
Queen Bee (1955)
The Fast and the Furious (1954)
Security Risk (1954)
The Steel Cage (1954)
The Good Die Young (1954)
Southwest Passage (1954)
The 49th Man (1953)
Combat Squad (1953)
Hannah Lee (1953)
The Bushwhackers (1952)
Hurricane Smith (1952)
The Basketball Fix (1951)
Little Big Horn (1951)
Red Mountain (1951)
The Scarf (1951)
Vengeance Valley (1951)
Cargo to Capetown (1950)
The Return of Jesse James (1950)
Anna Lucasta (1949)
The Doolins of Oklahoma (1949)
I Shot Jesse James (1949)
Mr. Soft Touch (1949)
Roughshod (1949)
All the King's Men (1949)
The Walking Hills (1949)
Open Secret (1948)
Raw Deal (1948)
A Southern Yankee (1948)
Joan of Arc (1948)
Red River (1948)
I Love Trouble (1948)
The Gangster (1947)
Railroaded! (1947)
It Shouldn't Happen to a Dog (1946)
Wake Up and Dream (1946)
My Darling Clementine (1946)
Behind Green Lights (1946)
A Walk in the Sun (1945)
TELEVISION SERIES
Cassie & Co. (1982) TV Series .... Shack Shackleford (1982)
Rawhide (1959) TV Series .... Jed Colby (1965-66)
The Cheaters (1961) TV Series .... John Hunter (1961)